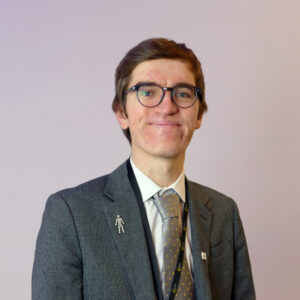 Matt joined NSAR as a Data Analyst in the Skills Intelligence Team as part of his degree-level apprenticeship in Digital and Technological Solutions. He has recently finished his apprenticeship and received a First-Class Honours.
Matt had previously done work experience at NSAR and started in a full-time role straight out of sixth form.
"I didn't know about degree apprenticeships, but NSAR suggested doing one and it sounded perfect – getting the experience of university while still working and saving money. Effectively getting paid to go to uni!"
The apprenticeship took four years. It involved one study day a week and four days in the office, learning on the job. Matt said it was difficult to balance study and work sometimes – especially when assignments were due or exams were coming up – but he really appreciated the flexibility NSAR gave him to focus on his studies.
Matt's degree was from the School of Engineering at London South Bank University. He learnt a range of skills that will be applicable in many roles – such as programming, modelling and project management.
"One of the great parts of the apprenticeship was the social side – meeting new friends. I've met a new group of close friends with similar interests and I'm grateful for that opportunity.
"It has also helped with my confidence. Before, I wasn't keen to speak up but now I have confidence in myself."
Matt's favourite aspect of working at NSAR has being able to put what he has learnt at university into practice in his work.
"I feel like I can provide the team with a unique skill set. Being able to show what I've learnt at university is a good thing."
Matt is looking forward to continuing to use the knowledge and skills he learnt in his apprenticeship in the workforce. He is planning to do a Master's degree after a break from study.
Everyone at NSAR is proud of Matt and his fantastic result. Matt's manager Michelle says: "Matt has worked hard to achieve his qualification and we are already looking at ways we can use his newly acquired skills in the promotion of NSAR's work. He has demonstrated an enormous amount of resilience, given Covid happened right in the middle of his course and learning switched to being online. Matt is an asset to the team. He demonstrates curiosity to learn, and will continue to do so in applying his new skills."