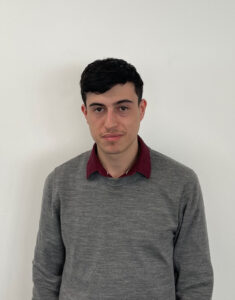 Santi is a Business Analyst at NSAR. He joined the organisation in January 2022 as part of the Kickstart Scheme.
"After finishing my A levels, I didn't want to go to university. I worked in hospitality for a few years, then had a job in construction, was a runner on film sets and a Deliveroo driver.
"I attended a Kickstart meeting because I was interested in getting into coding. I made a few applications and was offered a six-month position at NSAR."
Santi's role involves analysing data and using the findings to produce presentations and reports. It also entails research into various topics, to back up and find meaning in the data.
"I have been involved in lots of different projects, which has given me the chance to explore. While, at first, I wasn't as interested in data analysis as I was in coding, I have developed an interest in data during my role at NSAR.
"I had never worked in an office before, but NSAR has been really accommodating and made the transition easy. Everyone is very supportive – there are lots of people I can reach out to and ask questions of."
He says his favourite part of the role has been working with his team, who have been very welcoming. It has also been rewarding to see different parts of a project come together at the end, especially when working on the project as a group. He has learnt about lots of different aspects of the rail industry.
Santi took up a full-time role at NSAR at the completion of his six-month Kickstart Scheme. He is currently considering his next steps. This will likely be an apprenticeship, although he is unsure whether it might be in data analysis, coding or business management. He says he is enjoying his current role at NSAR and appreciating having time to decide what's next for him.
His manager Michelle says: "Santi has been an asset to NSAR and has been enthusiastic in all tasks required of him. He has demonstrated an appetite for new learning and shows curiosity when presented with a new project.
The Kickstart Scheme has allowed him to test a career path in a real-world environment, whilst learning new skills. Santi was offered a full-time position as he displayed core skills in the work he was asked to deliver. He has made the transition from the Kickstart Scheme into full-time employment seamlessly and it feels like he has been part of the team for a long time."