The NSAR Rail Workforce Survey is an annual comprehensive survey of rail industry professionals.
Each year, railway organisations across the industry contribute by submitting their workforce data on demographics, job roles and work locations. The survey helps NSAR build the most complete and accurate representation of the UK rail workforce.
We are pleased to share the results of the 2023 survey with you. By making the survey findings accessible, NSAR aims to enable organisations to benchmark themselves to the industry and better plan for the future. We are happy to do a more detailed workforce analysis and industry benchmarking for interested organisations – don't hesitate to contact us.
The headline findings are that skills shortages continue to be a major issue for the rail industry. The rail workforce continues to age year-on-year and is facing a critical loss of experience and knowledge – the number of people leaving through retirement and other forms of attrition could be 75,000 workers by 2030. While proportions are improving, rail remains a male-dominated industry with lower numbers of people from ethnic minority backgrounds than national averages.
Addressing skills shortages and improving diversity provides large economic and social value opportunities. The report models these figures and provides recommendations to support the industry in achieving its goals.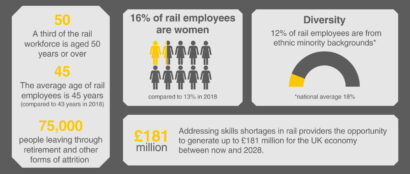 Thank you to the organisations that provided us with workforce demographic information. Your input is invaluable in helping NSAR to help the industry understand where current and future workforce gaps are and develop strategic workforce plans to ensure a pipeline of skilled employees is available.
In case you missed it, we recently announced that NSAR is joining the register of flexi-job apprenticeship agencies to support the rail industry in its efforts to address skills shortages and increase social value through apprenticeships. As a flexi-job apprenticeship agency, NSAR will recruit and employ apprentices and arrange placements with host organisations for the duration of an apprenticeship. This will de-risk apprenticeship provision for organisations, who can take on apprentices knowing that NSAR can place them elsewhere if the work pipeline changes.
We hope the NSAR Rail Workforce Survey 2023 findings prove useful to your organisation and look forward to working with you as we collectively address skills shortages in the rail industry.
Note: The NSAR Rail Workforce Survey is free and available for download. Organisations that did not contribute data and who are not NSAR subscription members will have to enter their details to view it.